Capital Expenditure Request (CER) with Advanced Form
This process can be downloaded and imported into your Integrify instance. The downloadable .json file is at the bottom of this page. Directions for importing processes.
---
We turbocharged our standard Capital Expenditure Request process with a new, advanced request form that uses a special grid to total amounts vertically and horizontally using Javascript.
Form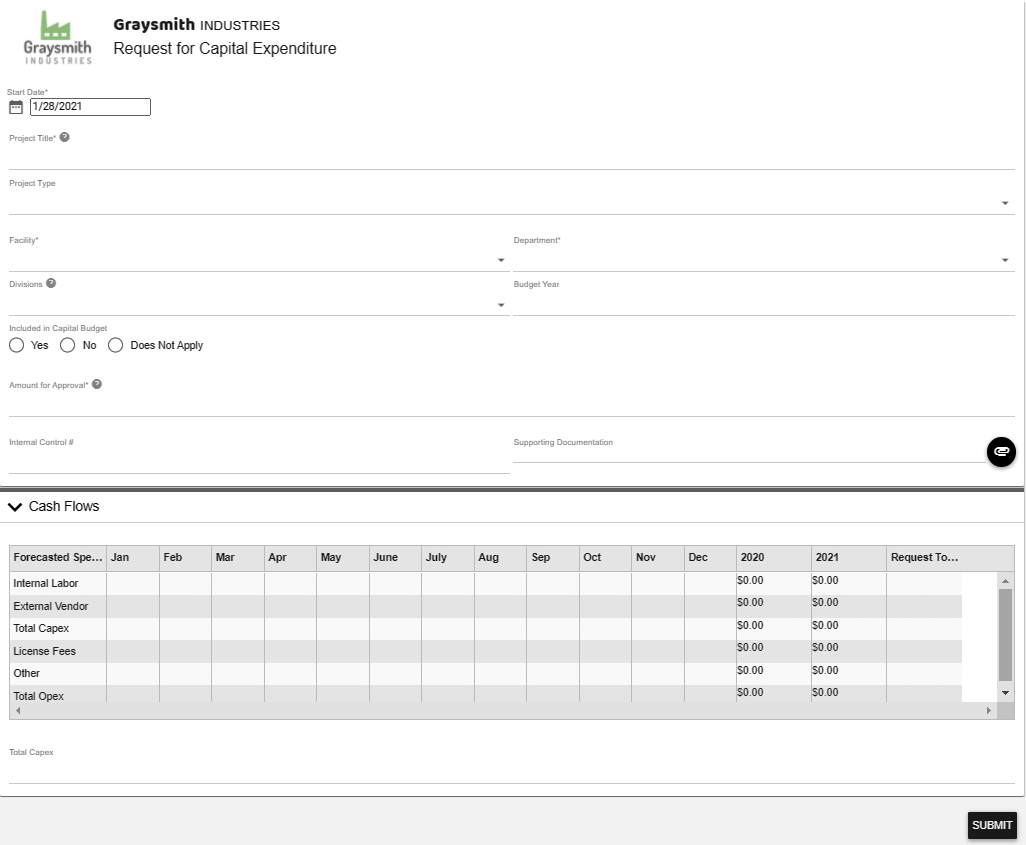 Process
---
Note: Processes are zipped for easier download. Click here more information on using zip files.
---
Here is the full javascript used to total grid entries vertically and horizontally (it's already included in the download):

var grd = intForm.getElementByClientID("grd2");

console.clear();
grd.events.onChange = function()
{
var grd2 = intForm.getElementByClientID("grd2");
var faBusCase = intForm.getElementByClientID("faBusCase");
var numTotalCapex = intForm.getElementByClientID("numTotalCapex");

var JanTotal = 0;
var FebTotal = 0;
var MarTotal = 0;
var AprTotal = 0;
var MayTotal = 0;
var JunTotal = 0;
var JulTotal = 0;
var AugTotal = 0;
var SepTotal = 0;
var OctTotal = 0;
var NovTotal = 0;
var DecTotal = 0;
var YearTotal = 0;
var nextYearTotal = 0;


//calculate column totals first by month, then by year
for (var i=0; i < 2; i++)
{
if (grd2.gridOptions.data[i].Jan != null)
{
JanTotal += parseFloat(grd2.gridOptions.data[i].Jan);
}

if (grd2.gridOptions.data[i].Feb != null)
{
FebTotal += parseFloat(grd2.gridOptions.data[i].Feb);
}

if (grd2.gridOptions.data[i].Mar != null)
{
MarTotal += parseFloat(grd2.gridOptions.data[i].Mar);
}

if (grd2.gridOptions.data[i].Apr != null)
{
AprTotal += parseFloat(grd2.gridOptions.data[i].Apr);
}

if (grd2.gridOptions.data[i].May != null)
{
MayTotal += parseFloat(grd2.gridOptions.data[i].May);
}

if (grd2.gridOptions.data[i].June != null)
{
JunTotal += parseFloat(grd2.gridOptions.data[i].June);
}

if (grd2.gridOptions.data[i].July != null)
{
JulTotal += parseFloat(grd2.gridOptions.data[i].July);
}

if (grd2.gridOptions.data[i].Aug != null)
{
AugTotal += parseFloat(grd2.gridOptions.data[i].Aug);
}

if (grd2.gridOptions.data[i].Sep != null)
{
SepTotal += parseFloat(grd2.gridOptions.data[i].Sep);
}

if (grd2.gridOptions.data[i].Oct != null)
{
OctTotal += parseFloat(grd2.gridOptions.data[i].Oct);
}

if (grd2.gridOptions.data[i].Nov != null)
{
NovTotal += parseFloat(grd2.gridOptions.data[i].Nov);
}

if (grd2.gridOptions.data[i].Dec != null)
{
DecTotal += parseFloat(grd2.gridOptions.data[i].Dec);
}

if (grd2.gridOptions.data[i]["2021"] != null)
{
nextYearTotal += parseFloat(grd2.gridOptions.data[i]["2021"]);
}
}

grd2.gridOptions.data[2].Jan = parseFloat(JanTotal);
grd2.gridOptions.data[2].Feb = parseFloat(FebTotal);
grd2.gridOptions.data[2].Mar = parseFloat(MarTotal);
grd2.gridOptions.data[2].Apr = parseFloat(AprTotal);
grd2.gridOptions.data[2].May = parseFloat(MayTotal);
grd2.gridOptions.data[2].June = parseFloat(JunTotal);
grd2.gridOptions.data[2].July = parseFloat(JulTotal);
grd2.gridOptions.data[2].Aug = parseFloat(AugTotal);
grd2.gridOptions.data[2].Sep = parseFloat(SepTotal);
grd2.gridOptions.data[2].Oct = parseFloat(OctTotal);
grd2.gridOptions.data[2].Nov = parseFloat(NovTotal);
grd2.gridOptions.data[2].Dec = parseFloat(DecTotal);

grd2.gridOptions.data[2]["2020"] = parseFloat(YearTotal);
grd2.gridOptions.data[2]["2021"] = parseFloat(nextYearTotal);

JanTotal = 0;
FebTotal = 0;
MarTotal = 0;
AprTotal = 0;
MayTotal = 0;
JunTotal = 0;
JulTotal = 0;
AugTotal = 0;
SepTotal = 0;
OctTotal = 0;
NovTotal = 0;
DecTotal = 0;
YearTotal = 0;
nextYearTotal = 0;

//calculate opex column totals by month then by year
for (var i=3; i < 5; i++)
{
if (grd2.gridOptions.data[i].Jan != null)
{
JanTotal += parseFloat(grd2.gridOptions.data[i].Jan);
}

if (grd2.gridOptions.data[i].Feb != null)
{
FebTotal += parseFloat(grd2.gridOptions.data[i].Feb);
}

if (grd2.gridOptions.data[i].Mar != null)
{
MarTotal += parseFloat(grd2.gridOptions.data[i].Mar);
}

if (grd2.gridOptions.data[i].Apr != null)
{
AprTotal += parseFloat(grd2.gridOptions.data[i].Apr);
}

if (grd2.gridOptions.data[i].May != null)
{
MayTotal += parseFloat(grd2.gridOptions.data[i].May);
}

if (grd2.gridOptions.data[i].June != null)
{
JunTotal += parseFloat(grd2.gridOptions.data[i].June);
}

if (grd2.gridOptions.data[i].July != null)
{
JulTotal += parseFloat(grd2.gridOptions.data[i].July);
}

if (grd2.gridOptions.data[i].Aug != null)
{
AugTotal += parseFloat(grd2.gridOptions.data[i].Aug);
}

if (grd2.gridOptions.data[i].Sep != null)
{
SepTotal += parseFloat(grd2.gridOptions.data[i].Sep);
}

if (grd2.gridOptions.data[i].Oct != null)
{
OctTotal += parseFloat(grd2.gridOptions.data[i].Oct);
}

if (grd2.gridOptions.data[i].Nov != null)
{
NovTotal += parseFloat(grd2.gridOptions.data[i].Nov);
}

if (grd2.gridOptions.data[i].Dec != null)
{
DecTotal += parseFloat(grd2.gridOptions.data[i].Dec);
}


if (grd2.gridOptions.data[i]["2021"] != null)
{
nextYearTotal += parseFloat(grd2.gridOptions.data[i]["2021"]);
}
}//end of column total for loop


grd2.gridOptions.data[5].Jan = parseFloat(JanTotal);
grd2.gridOptions.data[5].Feb = parseFloat(FebTotal);
grd2.gridOptions.data[5].Mar = parseFloat(MarTotal);
grd2.gridOptions.data[5].Apr = parseFloat(AprTotal);
grd2.gridOptions.data[5].May = parseFloat(MayTotal);
grd2.gridOptions.data[5].June = parseFloat(JunTotal);
grd2.gridOptions.data[5].July = parseFloat(JulTotal);
grd2.gridOptions.data[5].Aug = parseFloat(AugTotal);
grd2.gridOptions.data[5].Sep = parseFloat(SepTotal);
grd2.gridOptions.data[5].Oct = parseFloat(OctTotal);
grd2.gridOptions.data[5].Nov = parseFloat(NovTotal);
grd2.gridOptions.data[5].Dec = parseFloat(DecTotal);


grd2.gridOptions.data[5]["2021"] = parseFloat(nextYearTotal);


//calculate row totals
for (var i = 0; i < 6; i++)
{

var YearTotal = 0;
if (grd2.gridOptions.data[i].Jan != null)
{
YearTotal += parseFloat(grd2.gridOptions.data[i].Jan);
}

if (grd2.gridOptions.data[i].Feb != null)
{
YearTotal += parseFloat(grd2.gridOptions.data[i].Feb);
}

if (grd2.gridOptions.data[i].Mar != null)
{
YearTotal += parseFloat(grd2.gridOptions.data[i].Mar);
}

if (grd2.gridOptions.data[i].Apr != null)
{
YearTotal += parseFloat(grd2.gridOptions.data[i].Apr);
}

if (grd2.gridOptions.data[i].May != null)
{
YearTotal += parseFloat(grd2.gridOptions.data[i].May);
}

if (grd2.gridOptions.data[i].June != null)
{
YearTotal += parseFloat(grd2.gridOptions.data[i].June);
}

if (grd2.gridOptions.data[i].July != null)
{
YearTotal += parseFloat(grd2.gridOptions.data[i].July);
}

if (grd2.gridOptions.data[i].Aug != null)
{
YearTotal += parseFloat(grd2.gridOptions.data[i].Aug);
}

if (grd2.gridOptions.data[i].Sep != null)
{
YearTotal += parseFloat(grd2.gridOptions.data[i].Sep);
}

if (grd2.gridOptions.data[i].Oct != null)
{
YearTotal += parseFloat(grd2.gridOptions.data[i].Oct);
}

if (grd2.gridOptions.data[i].Nov != null)
{
YearTotal += parseFloat(grd2.gridOptions.data[i].Nov);
}

if (grd2.gridOptions.data[i].Dec != null)
{
YearTotal += parseFloat(grd2.gridOptions.data[i].Dec);
}

grd2.gridOptions.data[i]["2020"] = parseFloat(YearTotal);


if (grd2.gridOptions.data[i]["2021"] != null)
{
grd2.gridOptions.data[i]["Request Total"] = parseFloat(YearTotal) + parseFloat(grd2.gridOptions.data[i]["2021"]);
} else
{
grd2.gridOptions.data[i]["Request Total"] = parseFloat(YearTotal);
}

}//end of row total for loop


//show
if (parseFloat(grd2.gridOptions.data[2]["Request Total"]) > 50000)
{
faBusCase.show = true;
faBusCase.validation.required = true;
} else
{
faBusCase.validation.required = false;
faBusCase.show = false;
}

numTotalCapex.Answer = grd2.gridOptions.data[2]["Request Total"];

}//end of onchange
---
---